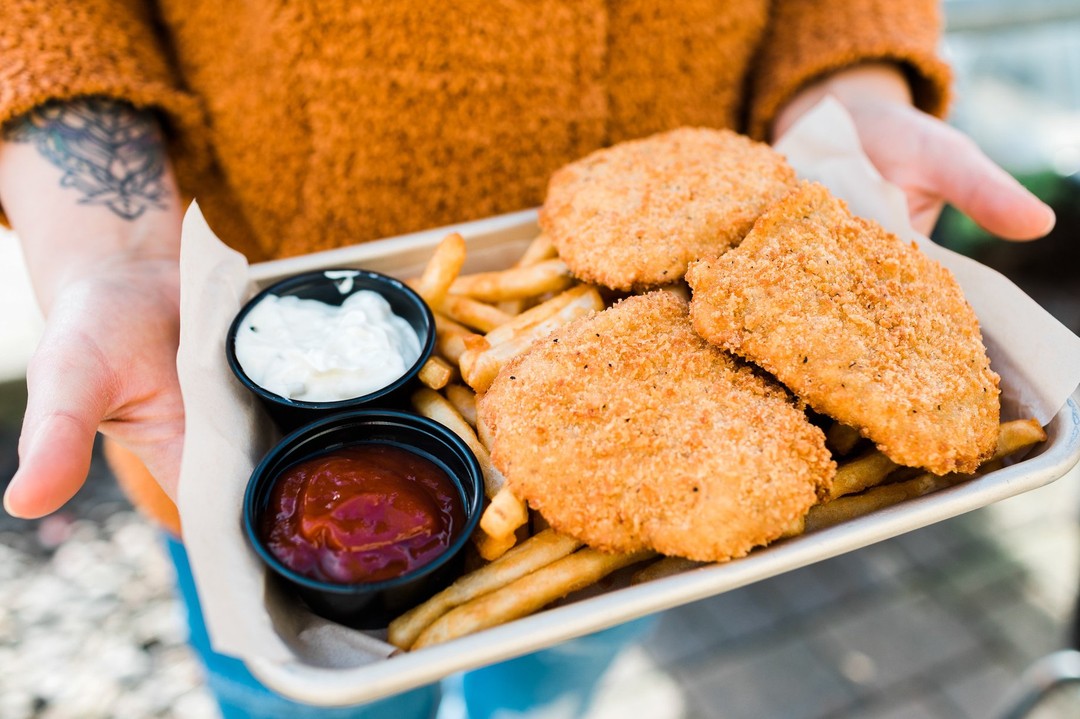 Breweries & Seafood
On The Oregon Coast
The North Coast is home to many of the state's popular breweries and seafood restaurants with regionally sourced dishes. Read ahead for our recommendations on where to get handcrafted beers and coastal meals with unmatched freshness.
Pelican Brewing Company
Swoop down to Pelican Brewing Company, a popular destination for lunch, dinner, or a pint of refreshing beer in Cannon Beach. Here you will always find a wide variety of housemade beers on tap, including ales, pilsners, lagers, and IPAs. Try up to eight styles with a flight sampler while reviewing the extensive Pelican Brewing Company pub menu. Signature items include beer sausage, clam chowder, and the fish & chips–made with Alaskan cod and breaded with Kiwanda Cream Ale and panko. Many menu items can be prepared vegetarian, vegan, or gluten-free upon request.
(503) 908-3377
pelicanbrewing.com
The Bistro
For elevated, classic coastal dishes in an intimate and cozy setting, look no further than The Bistro in Cannon Beach. Here you can enjoy dishes like northwest Dungeness crab and prawn cakes, a decadent clam chowder, or freshly prepared linguine with white wine sauce and locally sourced seafood. Live music is available most evenings, further adding to The Bistro's welcoming atmosphere. During summer months, you'll find a dog menu with homemade dishes served out on the patio for your pup.
(503) 436-2661
thebistrocannonbeach.com
Public Coast Brewing Company
Named after Oregon's 1967 legislation to make its beaches free and open to all, the Public Coast Brewing Company embraces an adventurous spirit and ocean-loving vibes with every brew they craft in Cannon Beach. Guests here routinely enjoy favorites like the '67 Blonde Ale or the Coastal Haze Hazy IPA, Public Coast also offers creative flavors and seasonal specialty brews such as Peanut Butter & Jealous Milk Stout or the Blueberry Wheat Ale. Their food menu is full of seasonal, fresh ingredients and includes organic burgers, fresh-catch fish and chips, and delicious hand-battered sweet onion rings. Public Coast is an excellent family-friendly option with a welcoming, stay-awhile outdoor patio.
(503) 436-0285
publiccoastbrewing.com
Buoy Beer Company
Situated along the Columbia River is Buoy Beer Company – a popular destination for beer lovers in Astoria. Visitors enjoy handcrafted beer and a limited food menu featuring chowder and rotating, seasonal specials. Buoy Beer focuses on traditional European style lagers and well-balanced northwest ales. They have a core group of classic beers to enjoy, but also produce unique and refreshing seasonal and one-batch brews that keep fans coming back for more. For a quick bite at the brewery, we recommend grabbing a Gaetano's Italian Deli charcuterie box or sandwich from the on-site cooler. Outside food is also welcome here.
(503) 325-4540
buoybeer.com
Bridgewater Bistro
A must stop for an unforgettable meal in Astoria, the Bridgewater Bistro offers masterfully prepared local seafood, charbroiled meats, a large selection of tapas, and housemade breads and desserts. Pair your meal with one of 22 wines poured by the glass, or an ice-cold locally made microbrew. Enjoy a 270-degree view of the Columbia River from the cozy indoor setting or dine outside with a dramatic view of the Astoria-Megler Bridge. Seating on the deck now includes KOSE Mini Dining Pods, allowing guests to enjoy dining outside in almost any weather.
(503) 325-6777
bridgewaterbistro.com
Astoria Brewing Company
Also overlooking the Columbia River is Astoria's oldest microbrewery, Astoria Brewing Company. No matter what kind of brews you are into, Astoria Brewing Company has a wide selection of handcrafted beers on tap, including IPAs, ales, pilsners, stouts, and more. Pair your beer with delicious pub fare, including chowder, salads, sandwiches, burgers, wraps, seafood items, and more. Astoria Brewing Company is family-friendly, so bring the whole crew to your next outing.
(503) 325-6975
astoriabrewingcompany.com
Finns Fish House
In the heart of downtown Seaside and a short walk to the beach is Finns Fish House – a favorite local restaurant that focuses on freshness and use of local ingredients. Their lunch and dinner menu is an impressive array of coastal cuisine. Some of their seafood specialties include steamer clams, clam chowder with a hint of smoked salmon, blackened albacore tuna salad, fish tacos, fish and chips with your choice of fish, or a whole Dungeness crab served with butter. Even the breakfast menu highlights razor clams, pan-fried oysters, and cold smoked salmon lox. Finns Fish House has a full-service bar with SISU Beer on tap and a spacious patio for outdoor seating.
(503) 738-8330
finnsfishhouse.com
Bell Buoy of Seaside
As you travel north on Highway 101 into Seaside, you can't miss Bell Buoy of Seaside with their iconic buoy and crab sign. It's a landmark destination in Seaside and has been operating since 1946. Inside you will find a market full of fresh seafood and catches of the day for you to take and prepare a feast of your own. For those looking for a meal, Bell Buoy also operates a restaurant in an adjacent building where guests can enjoy fish and chip baskets, seafood melts, chowder, or a hot whole-crab dinner.
(503) 738-2722
bellbuoyofseaside.com
Seaside Brewery
Stationed in the former old City Jail and City Hall building is Seaside Brewery – a great place to relax and enjoy premium craft beer. Brews here are known for their big malt profiles and classic hop bitterness and are always balanced in flavor. Pair your Seaside Brewery beers with mouthwatering barbeque entrees with meats cooked over real wood, fire, and smoke – such as their smoked brisket sandwich, pork spare ribs, or pulled pork sandwich.
(503) 717-5451
seasidebrewery.com
Fall through Spring is a great time to get a table at many of the well-known restaurants on Oregon's North Coast. Whenever you visit, there will be great food and great experiences waiting for you here.