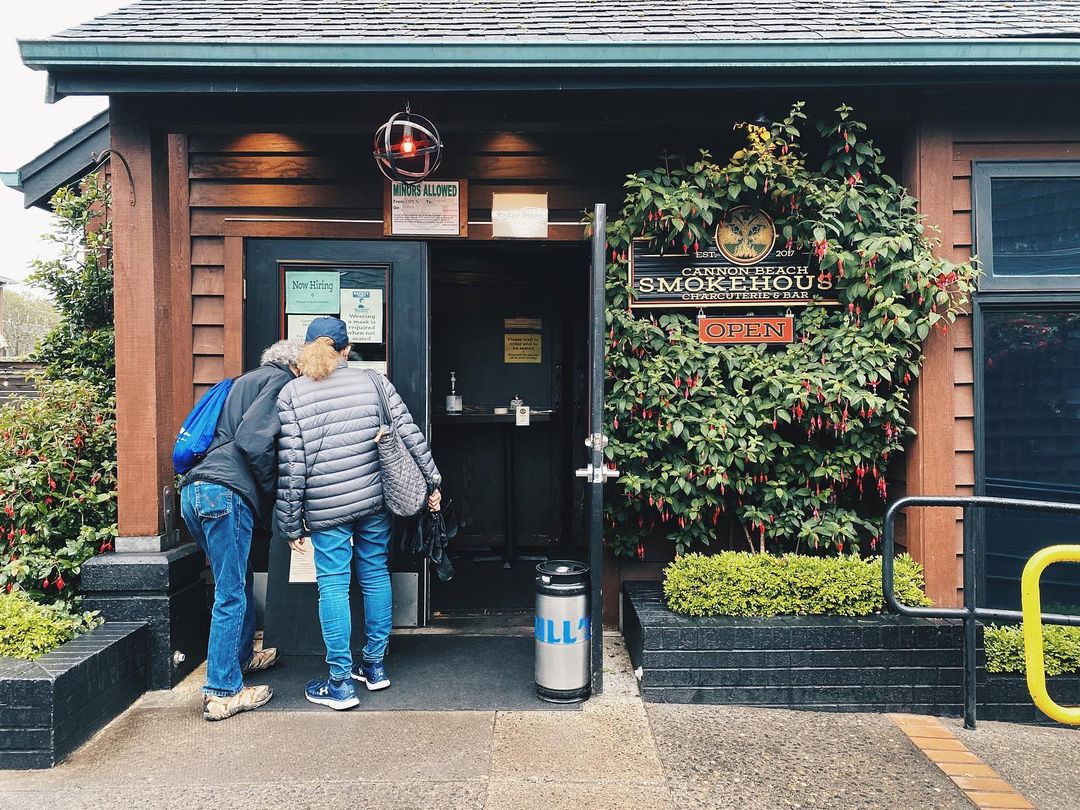 Best Restaurants
On The Oregon Coast
While each town on the North Coast has its fair share of well-known restaurants, it is also full of hidden gems and local favorites. Read on to discover locations that serve incredible food and drinks you may have overlooked, but will certainly enjoy.
South Bay Wild Fish House
As a family-owned-and-operated commercial fishing company, South Bay Wild Fish House's seafood is as fresh as it gets. Guests can have a seat in the restaurant or peruse the seafood market selection to take home and prepare there. While the South Bay Wild Fish House is somewhat unassuming from the outside, the inside offers all that a seafood lover could ask for. Start with a ceviche made from the fresh catch of the day or a round of oyster shooters. Popular entrees include a diverse selection of seafood and chips meals, seafood fry bread, and a fried calamari salad that always delivers.
(503) 741-3000
southbaywild.com
Trina & Ron's Place
Great food, hearty portions, and a focus on friendly service make Trina & Ron's place a favorite amongst locals. They serve breakfast, lunch and dinner and are known for their classic breakfast offerings. A whole section of the menu focuses on dishes that include their popular gravy. Many also swear by their chicken fried steak which, yes, also comes with gravy. For lunch, grab a sandwich like their 'Big Dipper' with thinly sliced prime rib, or a clam strip or oyster Po' Boy. For dinner, enjoy a homestyle meal of ribeye steak, baked potato, and garlic toast.
(503) 861-8200
facebook.com
Inferno Lounge
Watch the boats go by while sipping on a specialty cocktail from the Inferno Lounge. Although it is off the beaten path, guests here have a panoramic view of the Columbia River to make each visit a memorable experience. This casual and comfortable lounge has house-infused liquors as well as a selection of local brews to choose from. If you're hungry, they have a good selection of small and shared plates, as well as sandwiches and salads. Conveniently, they also share the space with Pier 11 Pizza, making it easy to grab a slice or whole pie while you're there.
(503) 741-3401
infernoloungeastoria.com
Ruby's Roadside Grill
Away from the action of downtown Seaside is an attraction of its own at Ruby's Roadside Grill. This fun atmosphere offers a wide selection of gourmet burgers with interesting toppings and flavors, like a burger with local Sleepy Monk coffee rub. They go well beyond burgers, though. How about adding some garlic mozzarella curly fries and a milkshake or root beer float? With an excellent kids menu this is a great restaurant for families, and you can even order meat for your dog! While they have many beers and wines to choose from, the go-to drink here is Ruby's Good Girl Ale, available exclusively at the grill.
(503) 739-7333
rubysroadsidegrill.com
Pizza a'fetta
After more than 30 years of serving delectable pizza in Cannon Beach, Pizza a'fetta has expanded their operation to Seaside, as well. While the Seaside location offers the same authentic Italian pizza that the area knows and loves, it also has much more space for in-house dining. When ordering, give a close look at the Molta Carne and the Tuscany Chicken pizzas. Alternatively, order by the slice and try each of their 18" pizzas one by one! You can also compliment your pie with draft pint (Buoy Beer from Astoria is on tap) or a glass of Oregon or Italian wine.
(503) 739-7500
pizza-a-fetta.com
The Relief Pitcher
On your way into Seaside on Highway 101, another good option for a casual lunch or dinner is the Relief Pitcher Tavern. Their impressive burgers along with attentive and friendly service make them a local favorite. If you're feeling hungry, give the ½-pound Grand Slam burger with ham, egg, and two cheeses a try. Other menu items they are well known for are their oyster shooters and Albacore Tuna Reuben sandwich. When you are looking for a meal in a casual atmosphere without the heavy tourist foot traffic, The Relief Pitcher is an excellent option.
(503) 738-9801
yelp.com
Newmans at 988
For fine dining in Cannon Beach, head to the south part of town and enjoy an intimate dinner at Newmans at 988. Here they combine the flavors of the Pacific Northwest with French and Italian cuisine to create meals that are to be savored with every bite. Popular entrees include marinated lamb rack, lobster ravioli, and linguine with clams. They also offer a Chef's Prix Fixe Menu that changes nightly and provides a culinary experience of several courses paired together. Newmans at 988 is located in a small house with an intimate atmosphere; therefore, call ahead to make a reservation for your evening.
(503) 436-1151
newmansat988.com
Cannon Beach Smokehouse and Charcuterie
Because it is tucked away off of the main strip in Cannon Beach, you may have missed Cannon Beach Smokehouse and Charcuterie. Stop in for one of their "specialty libations" like the Smokehouse Bloody, complete with a meat garnish, or enjoy a Bill's Tavern Brew. Their food offerings are unique, with interesting small plates like chorizo potstickers and hand-dipped corn dogs. Or, enjoy a larger plate featuring smoked sausage, an all-day breakfast sandwich, or share a charcuterie board with your group!
(503) 436-4035
cbsmokehouse4u.com
Sea Level Bakery
Pop-Up @ Public Coast We're hosting a pop-up @ Public Coast Brewery while we're remodeling our space. Friday – Monday, 7 – 11:30 AM.

Another gem on the south side of Cannon Beach is Sea Level Bakery. While there is no shortage of treats and coffee to be had in the heart of downtown, Sea Level Bakery is worth the short stroll down Hemlock. Nearly everything is house-made here, and you can taste the freshness in their bread, pastries, granola, pie and quiche. They serve high quality coffee from Heart Roasters that is prepared with the utmost care. Grab a cup and head down to Haystack Rock for the start of another wonderful day in Cannon Beach.
(503) 436-4254
sealevelbakery.com